Love the Print Spec? Note it down and we can quote the same for your next project 📝
A5 Booklets.
Undersize 135x95mm 4pp Cover
The part covers are printed onto Colorplan Park Green, Mandarin & Candy Pink.
16pp Text onto 150gsm Munken Lynx Smooth.
Four colour print throughout.
Trimmed, collated and wire stitched.
3 versions x limited edition printing of 50 copies
Limited Edition Chapbook Printing
A chapbook is a small collection of poetry, fiction, or nonfiction that is often printed in limited editions. These works are a testament to creativity and passion, which shine through in the "Crystal Bennes Chapbooks". These pieces leverage the beauty of Limited Edition Chapbook Printing to create a trio of unique narratives.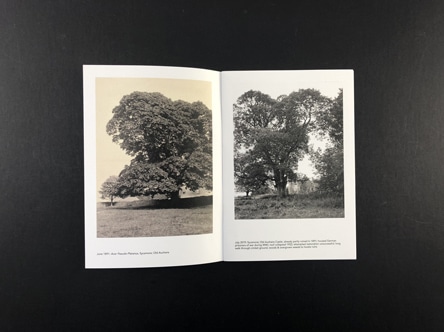 A Trio of Narratives ✨
The Crystal Bennes Chapbooks are a collection of three unique narratives, each offering a different perspective. "Paris Souterrain" delves into the geology of Paris and its influence on the city. "The Point of the Veil is to Promise That Something is Behind It" challenges the use of sexist, female-gendered imagery of nature in the physical sciences. Finally, "George Paxton's Remarkable Trees of Ayrshire" breathes new life into a 150-year-old photographic album of trees in Scotland.
These chapbooks boast an undersize 135x95mm 4pp cover, with 16pp text onto 150gsm Munken Lynx Smooth. Each narrative is brought to life with a four-colour print throughout, trimmed, collated, and wire stitched. The entire process culminates in the creation of three unique versions, each being a limited edition of 50.
A Testament to Quality
The quality of the Crystal Bennes Chapbooks harks back to other quality works like the Sabina Savage Collection Lookbooks and Make London Zines: Science Museum. It also echoes the creative passion seen in Ashley Hicks Product Brochures and Pulse Brands: Unleashing the Feminine Insight Reports.
**This is a bespoke print spec with higher set up costs that will probably not be suitable for a handful of copies for a student hand-in.